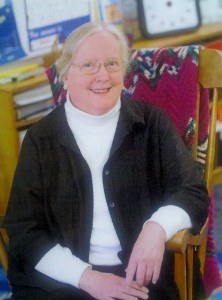 I live with my husband, Marty in Evesham, New Jersey. We are the parents of two grown adopted children. Our son, Kevan is on his way to becoming a commercial pilot.
Our daughter, Kate is presently living and working in New York City after doing graduate studies and working in China.
For some 35 years, I taught at Moorestown Friends. First I was an art teacher. Then I took a few years off to work with my husband and I also worked part time in a flower shop. When I was ready to come back to Moorestown Friends, the art teacher position wasn't available, so I took a position as a first grade assistant. For the rest of my career I worked with the younger children. I was still able to do plenty of art projects with them and I really enjoyed nurturing and supporting their growth. I did keep up with my own art through the years by painting and
 doing crafts. Learning how to make the fabric pumpkins pictured left has been my most recent project.
My recognition of the importance of parent education started early. When I was a teenager,we as a family, decided to take in foster children. We all went through the process meeting with social workers before and after the foster child arrived. The social worker gave us many tips about how to nurture these children who had been removed from their families due to neglect and abuse. We all found the information vital to our being able to care for these children.
As an adult, my husband and I felt the information and support we received each time we adopted one of our children from overseas was vital to our success in integrating the child coming from a different culture as well as to know what was normal behavior and to be anticipated. For example many children adopted at an age older than an infant may try to run away from home. This can happen with children who are adopted and with children who were not. But knowing this helped us understand when our daughter at age 6 announced she was leaving the house to go back to Vietnam.
My association with Quakers also started early…very early. In 1683 some of my ancestors who were Quaker came to the Philadelphia area to avoid being persecuted and to seek a Quaker community in which to raise their children. My family didn't all stay Quaker, however, and through the years there were Presbyterians, Episcopalians and Baptists. When I was in my early teens, my best friend and I decided to visit other local religious groups. Each weekend we'd get on our bikes and peddle to a different church or synagogue. I'll never forget that the one place where we felt most welcomed and where people took the time to talk to us was at Merion Meeting. That fact, the warmth and friendliness, stayed with me over the years. I actually attended several Meetings sporadically until we had children. At that time Marty and I wanted a spiritual home for our family and Moorestown Meeting was a logical place to settle. By that time I had been teaching at Moorestown Friends School for several years. Both of us are now involved in the life of the meeting.
When some of my Moorestown colleagues who were in the Quaker Parenting Initiative approached me to join them it seemed like the next step for me. I was close to retiring from teaching. I understood the strengths of Quakerism and the importance of providing parents with support and information. I was eager to share my experience and to help provide a safe place for parents to connect, share and grow.