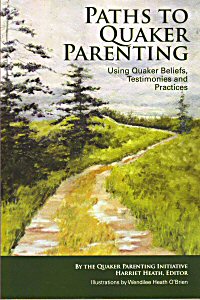 by the Quaker Parenting Initiative Writing Group, Harriet Heath, Editor
A group of Quaker parents asked:
How should we respond to a three-year-old's whining for a cookie at 5:30?
Should a nine-year-old have both an IPod and a cell phone, or neither?
How should we deal with a teenager who rolls his eyes and doesn't move when asked to take out the trash?
To answer these kinds of questions, we, the writing group, met over a three year period. The group of Quaker parents were a mixture of less and more seasoned Friends and less and more experienced parents and grandparents. We shared our questions and our experiences of how our Quaker faith had supported and guided our parenting.
We found it was not easy to see parenting as a spiritual journey. But all the work we did was to take what we had learned from child psychology and daily practice, and surround it with spiritual silence, awaiting an opening. In this writing we explore the thing that parents of faith attempt and that parents of Quaker faith attempt in our particular way—to parent in the Light. Parenting was part of our spiritual journey.
This book is the outcome of our sharing.
CONTENTS
4    Writing Committee Members
5    Other Contributors
6    Illustrations
7    Acknowledgments
9    Prologue
13    Our Quaker Beliefs
17    Examples of trying to live according to our beliefs
25    Testimonies
28    Integrity
38    Equality
50    Peace
61    Simplicity
69    Stewardship
77    Service
85    Reflections on Testimonies
86    Practices
87    List of Practices
99    Examples of Using Quaker Practices
107    Living Our Faith in Community and Family
110    Epilogue
To order:
Send a check for 14.95 plus shipping (3.00 for one copy 4.00 for two)
Make the check out to Harriet Heath
Mail check to Harriet Heath, Box 315, Winter Harbor, ME 04693