Our Mission
The Quaker Parenting Initiative is dedicated to helping parents find direction and spiritual meaning
in their parental role as they nurture and guide their children.
Quaker Parenting Initiative Facilitators
Are Quakers.
Have experienced the strengths of Quakerism in their own parenting.
Are experienced group facilitators.
Are knowledgeable about human development.
Understand the parental role and how it changes as children grow and develop.
Have taken the Parenting Creatively in a Quakerly Manner
The Facilitators
The Assistant Facilitators
Youme Nguyen Ly, Wellesley NEYM
Lily Palmieri, Westport MM NEYM
The Quaker Parenting Initiative is dedicated to helping parents find spiritual meaning in their parental role and direction for their parenting within their Quaker faith. Parents in the rush and confusion of their lives are looking for meaning and guidance. They come to meetings looking for a spiritual home for their children while often wondering if Quakerism has anything to offer them.
Through the years, it is true, parents have found support and guidance from their faith as they cared for and nurtured their children.1, 2  Recently there has been a renewed effort to articulate and make more available those strengths that are in our Quaker faith but not frequently identified directly with parenting. During the 1990s a group of women within the Religious Education Committee called Zero to Thirteen met periodically to share their parenting experiences and concerns. One of their efforts was to reach out to parents with an all day retreat providing workshops describing ways parents could support the spiritual development of their children. Another effort, supported by the counseling service of the Yearly Meeting, was parent discussion groups facilitated by Harriet Heath, a counselor in the service. The Quaker Parenting Initiative is an outgrowth of both of these endeavors.
Though Harriet had not recognized it at the time, while working in the public schools, she had developed a very Quakerly approach to parenting. Her approach assumed parents were responsible for their children and capable of making good decisions as to how to nurture them. She used a series of questions to help parents figure out how they wanted to deal with common every day parenting situations. One of the questions dealt with the parents' values, what kind of person they hoped their child would become.3  Once working within the Counseling Service, the questions became more clearly based on Quaker beliefs, testimonies and practices.
In the early 2000s a working group formed when Friends Institute encouraged Harriet to expand her program. With the money they provided, she gathered anyone willing to discuss their interest in and concerns for Quaker parents. Out of these large meetings twelve women, no men would join them, became the Quaker Parenting Project. They met over a three year period. The group included grandmothers and a woman pregnant with her first child. There were birthright Quakers and convinced Friends. There were those who spoke with theistic beliefs and those who talked about the Light and the search for understanding. This group of women explored the meaning of Quakerism in their lives as parents as they shared their own personal experiences.
Three queries came to guide their searching:
Are Quaker beliefs related to our parenting? If they are, how are they? More specifically how does believing that there that of God (or the Divine, the Inner Light) in every person impact our parenting?
Have the Quaker testimonies of integrity, equality, peace, simplicity, stewardship, and service been relevant to our parenting?
Have we found helpful any of the Quaker practices—such as being mindful, asking queries, and holding in the Light?
These twelve women, as they talked and shared found that their Quaker faith had supported and guided their parenting in ways that were not frequently discussed in Quaker circles. They came to recognize that they believed there was that of God in their children even when those children were misbehaving. The Testimonies, they found, had given them direction. They were surprised when they realized how many of the Quaker practices they had used as they nurtured and guided their children. They summarized their insights and illustrated them with actual child rearing experiences in an edited book, Paths to Quaker Parenting Using Quaker Beliefs, Testimonies and Practices.4The themes of the book supported, clarified and deepened the premises that Harriet Heath had been using in her work with parents. With the book published the writing group laid itself down.
A new group gathered, The Quaker Parenting Initiative. Some members of this new group had been in the writing group; others, interested in the work, were new. This group integrated the ideas and approach to parenting described in Paths, into workshops. In doing so they expanded Harriet's approach strengthening and deepening it by drawing on their own parenting and spiritual experiences.5  Over the next fifteen years or so they provided workshops and discussion groups for meetings, and schools throughout the Philadelphia Yearly Meeting and beyond. As the number of programs expanded, QPI organized and held training sessions to develop more facilitators.
When Philadelphia Yearly Meeting laid down all of its study groups in 2014, the Initiative continued to provide discussion groups and workshops but its geographic expanded significantly. Two of its members moved out of the PYM area. Their work was warmly welcomed in their new Yearly Meetings, in New England and New York.
A new venture for the Initiative was to provide virtual parenting discussion series. These were tried for several reasons. Parents expressed interest in the discussion series but seemed reluctant to sign up for a six weeks of evening sessions. Parents, both of whom worked out of the home all day, were not enthused about going out in the evening. Parents were geographically disbursed. There might be only one or two families in a meeting but virtually they could meet with other parents.
Virtual groups proved a way to meet the needs of parents. They allowed parents to participate while their children were tugged in bed and they, the parents, could be at home in their PJs, if they wished. Parents could be part of a group though geographically separated. One participant in the discussion series in the fall of 2017 was actually in Chili. Parents demonstrated that they felt comfortable sharing their experiences by doing so. They explored their concerns with others that they knew only virtually. One member wrote in her evaluation that she had not expected a virtual meeting for worship could be meaningful and deep but it was.
Towards the end of the second decade the steering committee of the Initiative felt the need to reflect on their work. Parents had stopped signing up for even virtual groups. Reports were that parents felt they could figure out how to nurture their children and that they always had the internet for information.
With a grant from the Obadiah Fund the QPI steering committee held a weekend retreat at Woolman Hill to reflect on the program itself. They raised two questions. Are we providing Quaker parents the truest of what Quakerism offers? Second, What is the best way currently to reach parents? How might we better support parents on their spiritual journey?  To explore these questions parents and people, interested in Quaker parenting, representing five yearly meetings gathered.
The group reviewed the deep and meaningful message Quakerism holds for parents and concurred that what the women had found fifteen years earlier still held. Quaker beliefs, testimonies and practices support parents in deep and meaningful ways, as they nurture and guide their children. Furthermore, parenting is living the testimony of service, of caring.
Envisioning how better to reach out to parents proved to be obvious. The Quaker Parenting Initiative needed to move more into social media.
Since the retreat the Initiative as continued to offer virtual and in person workshops. It has also focused on updating its web site and becoming active participants on Facebook with the hope of developing more dialogue.
For further information, have ideas for the group, want to join in its work, please contact Harriet Heath, 413 230 6568 or  harriet.e.heath@gmail.com.
1 Levy, B. (1988). Quakers and the American Family: British Settlement in the Delaware Valley. New York: Oxford University Press.
2 Bacon, M. (1986). Mothers of feminism: The Story of Quaker women in America. San Francisco: Harper & Row.
3Heath, H. (2000). Using your values to raise your child to be an adult you admire. Seattle, WA: Parenting Press.
4Heath, H. (Ed.). (2010). Paths to Quaker Parenting using Quaker beliefs, testimonies and practices. Haverford, PA: Conrow Publishing.
5Heath, H. (2017 latest version), Searching to find the Way to Nurture Our Children to Become the People They Are Able to Be. Conrow Pub: PO Box 315, Winter Harbor, ME 04693.
This is the group that started meeting in 2003. They produced Paths to Quaker Parenting Using Quaker Beliefs, Testimonies and Practices. The group, having finished their task, was laid down.
Danielle Beauvais, Gwynedd MM, PYM
Marlou Carlson, Duneland Friends MM, Illinois Yearly Meeting, Friends General Conference—Religious Education
Pamela Haines, Central Philadelphia MM, PYM
Harriet Heath, Clerk, Radnor MM, PYM
Anne Janson, Radnor MM, PYM
Cornelia Kietzman, Chestnut Hill MM, PYM
Lynn Oberfield, Providence MM, PYM
Wendilee O'Brien, attends Swarthmore MM, PYM
Karyn Payten, Chester MM, PYM
Myriam Siftar, Arch Street MM, PYM
Marty Smith, Moorestown MM, PYM
Amanda Vail, Gwynedd MM, PYM
The Quaker Parenting Initiative
evolved under the auspices of
Education Standing Committee of Philadelphia Yearly Meeting
under the supervision of
Friends Counseling Service, a working group under the auspices of the Standing Committee on Worship and Care of Philadelphia Yearly Meeting
has been funded by
Friends Institute, a program and funding group within Philadelphia Yearly Meeting
and has received grants from
The Chase Foundation
The Elizabeth Taylor Fund
Publications Committee of the Philadelphia Yearly Meeting
Obadiah Brown Benevolent Fund
Quaker Parenting Initiative currently functions independently providing programs as requested by parents, schools, monthly, quarterly and yearly meetings.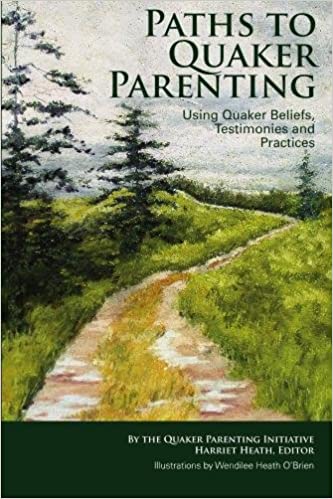 Books
Paths to Quaker Parenting Using Quaker Beliefs, Testimonies, and Practices
edited by Harriet Heath
Order at Amazon
Searching to Find the Way to Nurture Our Children to Become the People They Are Able to Be (digital only)
by Harriet Heath
To order: Contact Harriet Heath at harriet.e.heath@gmail.com
Curriculum
Learning How to Care for the Meeting's Children: A Curriculum for First Day School Sixth to Twelfth Graders
by Harriet Heath
To order: Contact Harriet Heath at harriet.e.heath@gmail.com
"Well balanced between practical/specific and spiritual/inspirational."
"A helpful tool as I think through the parenting challenges I encounter."
—Handbook reviewer
By caring Quakers demonstrate their compassion, their concern for others. This curriculum provides students with an opportunity to think about what it means to care for another. During the classes students have a chance to learn how to care. While the parents of the younger children participate in activities of the meeting, the students care for the young children and, thus, have an actual experience of being responsible for another person, of caring.
Parenting Creatively in a Quaker Manner
Parents explore:
What Quaker beliefs, testimonies and practices mean to them.
How these foundations of Quakerism can support and guide them as they nurture their children.
A system of queries that can help them plan how they want to live with and guide their children.
With other parents the joys and challenges of parenting.
Discussion Series Outline
Session 1
Settling together: Practicing mindfulness
Getting to know each other: Reasons for being here – yours and mine
Planning where we are going

Overview of discussion series: Questions/queries to guide us

What are our current concerns? Describe the situation
What are our choices?
Maintaining the relationship
Communication skills: affirming and supporting; communing and sharing
Testimonies—what are they?
Family-of-origin
What is your situation?

Mindfulness in your situation

Mindful of our bodies
Session 2
What qualities do we want to see in our children as adults?

What do the Testimonies mean for our family life?
What guidance do the Testimonies give us when selecting our values?
Testimonies and values as guides for deciding how to deal with our situation.

Being mindful of our child
Feelings and emotions Where do they fit into our lives?

How do we want to deal with them?
Communication skills: Reflective and/or Active listening

Families of origin
Sharing our specific situations
Mindful of the situation
Session 3
What are our beliefs? How do they impact on our child
rearing?
How do we meet the needs of our children and of ourselves?

Meeting needs as a technique of discipline
Meeting children's needs in an unQuakerly world

Communication skills: Explaining and giving information; discussing and dialoguing
Helping our children relax
Session 4
Planning with consideration for each member in the family

Development with an emphasis on cognitive changes
Learning and thinking styles

Communication skills: Inquiring, Clarifying meaning
Mindfulness of the larger world
Session 5
Looking at pleasant experiences
Planning with consideration of each child in the family – and ourselves

Temperament patterns
Interests
Physical make-up
Previous experience

Communication skills: Responding to our children's obnoxious comments;
Session 6
Defining for ourselves the parental role
Guiding out of the center or centering in the midst of chaos
Structuring our environments: Using time, space and equipment
Deciding/planning

Planning for other situations

Reflections and evaluations of the discussion series
A Family Weekend
A time of family fun, a chance for Quaker children to play and learn together, and an opportunity of parents to share their concerns with other Quaker parents. The weekend is tailored to meet the needs of the group.
A Family Weekend Outline
Friday evening
(approximately from 6:00 to 8:00 depending on age of children)
Activities as people gather – child focused
Dinner—potluck
Evening family time

Share pictures of family time over vacation
Games
Story telling
Singing
Saturday morning
(Day starts at 9:00 or 9:30 and ends by 4:30. An evening program can
be planned but families tend to feel they want the evening at home together.)
Worship
Quaker Beliefs —
Integrating our beliefs into family life

Looking at our situations
Brainstorming solutions
Choosing solutions based on our beliefs

Lunch break—(pizza (?) with children and time for a good family
break)
Saturday Afternoon
Integrating the testimonies into family life

Define some of the testimonies

Consider children's characteristics and setting realistic expectations
for our children's behavior
Planning with consideration of the testimonies
Other relevant issues to consider—

Building and maintaining the relationship

Reflection on day
Sunday Morning
(usually an hour during adult religious education)
Issues parents raise or
Raising Quaker children in a non Quaker world
Join in meeting for worship
Especially for Grandparents
Granparenting Creatively in a Quaker Manner
Grandparents may live near their grandchildren or far away. They may have frequent contact or no contact at all. They may want to renew, re-spark or think how to keep the relationship as children move into another stage of development.
We offer the opportunity to:
Envision the kind of relationship you want to have with your children and grandchildren
Contemplate the relationship that you have with your children and grandchildren
Use your Quaker faith as a support and guide in your relationships
Click here to see an outline of the discussion series
The Quaker Parenting Initiative: Its Purposes and Goals
Meetings blessed with families often look for ways to support those families.
Participants of this workshop learn about the different programs offered by
the Quaker Parenting Initiative and how those programs can be adapted to meet the needs of the parents of a meeting. Our programs provide opportunities for parents to relate their Quaker faith to their family life. At the same time, parents may form bonds with other Quaker parents for support and
to share the joys and tribulations of nurturing children. Meeting members
will learn more from this workshop about how the Quaker Parenting Initiative
can support the life of their meeting.
Workshop Outline
Objectives
Introduce participants to:
The history of the Initiative
The make-up of the participants
The goals of the organization and its activities
Plan
Circle introductions
Briefly tell the history of the organization

How QPI started
Who was involved
Make-up of the writing group

Our common understandings

What we found that we shared:

Beliefs on which we base our parenting
Testimonies that guide us
Practices that keep us focused including

Queries that remind us of the pertinent issues

Describe workshops QPI offers

Discussion series
Single sessions
Weekend family retreat

Leadership Development
Reflection on workshop
Integrating Quaker Values into Family Life
Parents often are looking for ways of nurturing their children that are alternatives from how they were raised. They wonder what direction their faith can give them. This one hour workshop gives them a bird's eye view of the potentials of Quakerism to provide guidance.
Workshop Outline
Objectives
Opportunity to:
Identify and define the testimonies and ones values
Explore ways of using the testimonies and values as guides
Share specific ways of integrating them into family life
Content
Describe situations about which parents are concerned
Brainstorm ways of dealing with one specific situation
Identify testimonies and values that could serve as guides for planning
for the situation
Define the testimonies and values
Use the testimonies and values to plan for the situation under discussion
Reflection
Raising Quaker Children in a Non-Quaker World
Parents are raising their children in a world much of which is not only not sympathetic to Quaker principles but even antagonistic. As their children grow parents must be able to explain to their children their values and why they hold them.
Children, especially those in non-Quaker schools, following Quaker testimonies and practices can face difficult situations at school as well as in the neighborhood.
With the workshop participants we will raise some of these issues.
Workshop Outline
Objectives
Encourage participants to identify what we mean by "Quaker children"
Define the Testimonies and Quaker values that can guide our parenting
Explore ways of integrating the Testimonies and values into family life
Content
Circle Introductions
What does a Quaker Child look like?

Extract from the discussion the testimonies and values we want to see in our children

Define the Quaker testimonies and values
How do we use these testimonies and values within the family and teach them to our children?

Situations that offer an opportunity for our children to learn about the values

Implications for children
Reflections
BLOG: Conversations in Parenting
Conversations in Parenting is a place to ask questions and learn from the experiences of other parents.
Howard Brinton concluded: 'The most important consideration is not the right action in itself but a right inward state out of which right action will arise. Given the right inward state, right action is inevitable.' That right action was to be seen by living the...
read more
"Andy won't share." "Bobby won't share." The two-year-olds screamed at each other while each held firmly to one of the ends of the truck. Mom could pull the toy from the hands saying, "If you boys can't play nicely with the truck we'll just put it up on the shelf for...
read more