The Quaker Parenting Initiative helps parents integrate their Quaker beliefs and values
with their knowledge of human development to nurture their children.
Where would you like to begin?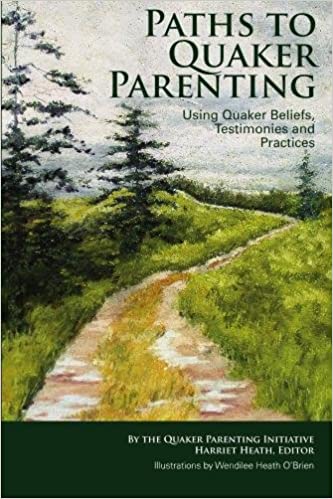 Paths to Quaker Parenting Using Quaker Beliefs, Testimonies, and Practices
by the Quaker Parenting Initiative Writing Group, Harriet Heath, Editor
A group of Quaker parents asked:
How should we respond to a three-year-old's whining for a cookie at 5:30?
Should a nine-year-old have both an iPod and a cell phone, or neither?
How should we deal with a teenager who rolls his eyes and doesn't move when asked to take out the trash?
To answer these kinds of questions, we, the writing group, met over a three year period. The group of Quaker parents were a mixture of less and more seasoned Friends and less and more experienced parents and grandparents. We shared our questions and our experiences of how our Quaker faith had supported and guided our parenting.
We found it was not easy to see parenting as a spiritual journey. But all the work we did was to take what we had learned from child psychology and daily practice, and surround it with spiritual silence, awaiting an opening. In this writing we explore the thing that parents of faith attempt and that parents of Quaker faith attempt in our particular way—to parent in the Light. Parenting was part of our spiritual journey.
This book is the outcome of our sharing.
"Well balanced between practical/specific and spiritual/inspirational."
—Handbook reviewer
Contents
4    Writing Committee Members
5    Other Contributors
6    Illustrations
7    Acknowledgments
9    Prologue
13    Our Quaker Beliefs
17    Examples of trying to live according to our beliefs
25    Testimonies
28    Integrity
38    Equality
50    Peace
61    Simplicity
69    Stewardship
77    Service
85    Reflections on Testimonies
86    Practices
87    List of Practices
99    Examples of Using Quaker Practices
107    Living Our Faith in Community and Family
110    Epilogue
 Available from The Quaker Parenting Initiative
Box 315, Winter Harbor, ME 04693
$14.00 plus $5.00 shipping
Searching to Find the Way to Nurture Our Children to Become the People They Are Able to Be
A manual for parents (digital only)
by Harriet Heath
Questions/queries guide the readers' thinking:
What is the situation about which you are concerned and/or in which you see opportunities for growth?
What are all the ways you and any interested others can think of as ways of dealing with the situation?
Parents then ask which of the ways that they have brainstormed are:
True to my Quaker faith and beliefs?
Opportunities for modeling and teaching the testimonies and values?
Considerate of the needs, feelings and individuality of each person involved? Possible given the circumstances in which I am parenting?
The ways thus selected make a plan.
Parents mindfully live their plan.
They review their experience and contemplate next steps.
The book is used during the workshop, Parenting Creatively in a Quakerly Manner discussion series.
"A helpful tool as I think through the parenting challenges I encounter."
—Handbook reviewer
Table of Contents
Introduction
Where are we going?
1. Maintaining a Close Relationship with Children
2. Planning
a. What is the situation?
Being Mindful in Retrospect Exercise
b. What are your choices?
Brainstorming Exercise
c. Guides for deciding which options to implement:
What are your beliefs?
What are your values?
What are the needs of the people involved?
What are their feelings?
What are the individual characteristics of those involved?
Developmental level
Temperament
Learning style
Interests and Strengths
Previous experiences
Physical make-up
What are the family characteristics?
Family patterns
Routines
Traditions
Styles of communicating
What are the conditions in which you are living?
Parents' energy
Time
Financial security
3. Making a Plan
4. Implementing Your Plan
5. Reflecting on Your Plan
Available from:
The Quaker Parenting Initiative
Box 315, Winter Harbor, ME 04693
Digital only, $10.00
Learning How to Care for the Meeting's Children: A Curriculum for First Day School Sixth to Twelfth Graders
A Curriculum for First Day School Sixth to Twelfth Graders
by Harriet Heath
By caring Quakers demonstrate their compassion, their concern for others. This curriculum provides students with an opportunity to think about what it means to care for another. During the classes students have a chance to learn how to care. While the parents of the younger children participate in activities of the meeting, the students care for the young children and, thus, have an actual experience of being responsible for another person, of caring.
In the process students will ask themselves:
What will they, as caregivers, need to know about the children in their care, and how can they obtain this information?
What activities and resources does the environment offer?
What will be their role as caregivers to ensure the safety and happiness of each child?
What do they as caregivers want to learn from this experience?
Contents
Acknowledgments
Caring: An Overview
Organizing the Program
Session 1 Getting Started: A Model of Caring
Session 2 Who Are the Children You Will Care For?
Where Will You Do It?
Session 3 What Will be Your Role?
Session 4 What Worked? What Didn't?
Reflecting on the Childcare Experience
Mini Lesson 1 Brainstorming: A Practice Session
Mini Lesson 2 Dealing with Conflict
Mini Lesson 3 Dealing with Meanness
Mini Lesson 4 Reading to Children
Mini Lesson 5 Talking with Children
Mini Lesson 6 Temperament Patterns
Mini Lesson 7 Caring as Part of a Quaker Way of Life
Figures
Figure 1 Caring: A Process
Figure 2 A Caregiving Experience: An Example
Figure 3 Sign-In/Sign-Out Chart
Figure 4 Caring for Children: A Process
Figure 5 Questions to Ask Parents
Figure 6 Three Reports of the Same Afternoon
Figure 7 Questions that Guide: The Observation Process
Figure 8 Example of a Developmental Chart
Figure 9 Example of a Plan for Caring for Young Children
Figure 10 Brainstorming: A Skill
Figure 11 Temperament Patterns
Available from The Quaker Parenting Initiative
Box 315, Winter Harbor, ME 04693
Digital only: $10.00
The Quaker Religious Education Collaborative (QREC) Resources
Though a resource for religious educators, the web site offers many ideas for parents seeking to integrate religious thought and spiritual seeking into their family life. There are suggestions of children's books that have Quaker themes. Some of the books include ideas for extending the discussion of the ideas presented in the book. The resource includes ideas of activities to do with children. There is a section for parents. The organization of the resource makes for the easy finding of what is available. https://www.quakers4re.org/resource-library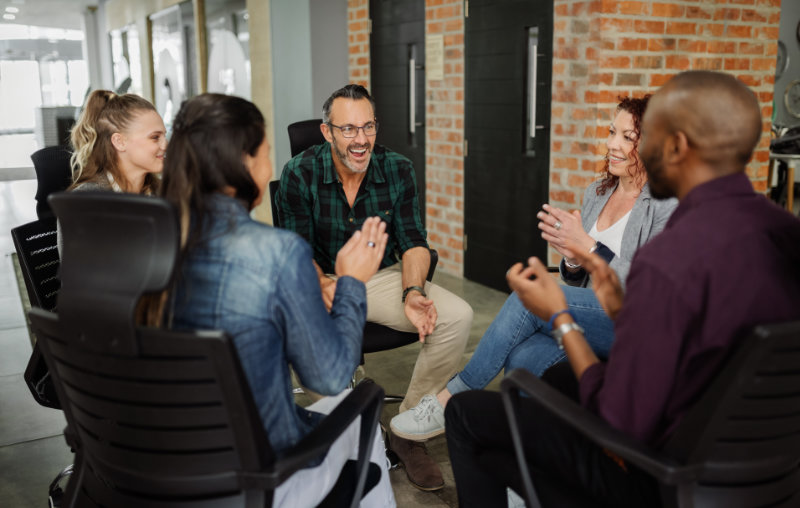 Parenting Creatively in a Quakerly Manner
Parents explore:
What Quaker beliefs, testimonies and practices mean to them.
How these foundations of Quakerism can support and guide them as they nurture their children.
A system of queries that can help them plan how they want to live with and guide their children.
With other parents the joys and challenges of parenting.
Discussion Series Outline
Session 1
Settling together: Practicing mindfulness
Getting to know each other: Reasons for being here – yours and mine
Planning where we are going

Overview of discussion series: Questions/queries to guide us

What are our current concerns? Describe the situation
What are our choices?
Maintaining the relationship
Communication skills: affirming and supporting; communing and sharing
Testimonies—what are they?
Family-of-origin
What is your situation?

Mindfulness in your situation

Mindful of our bodies
Session 2
What qualities do we want to see in our children as adults?

What do the Testimonies mean for our family life?
What guidance do the Testimonies give us when selecting our values?
Testimonies and values as guides for deciding how to deal with our situation.

Being mindful of our child
Feelings and emotions Where do they fit into our lives?

How do we want to deal with them?
Communication skills: Reflective and/or Active listening

Families of origin
Sharing our specific situations
Mindful of the situation
Session 3
What are our beliefs? How do they impact on our child
rearing?
How do we meet the needs of our children and of ourselves?

Meeting needs as a technique of discipline
Meeting children's needs in an unQuakerly world

Communication skills: Explaining and giving information; discussing and dialoguing
Helping our children relax
Session 4
Planning with consideration for each member in the family

Development with an emphasis on cognitive changes
Learning and thinking styles

Communication skills: Inquiring, Clarifying meaning
Mindfulness of the larger world
Session 5
Looking at pleasant experiences
Planning with consideration of each child in the family – and ourselves

Temperament patterns
Interests
Physical make-up
Previous experience

Communication skills: Responding to our children's obnoxious comments;
Session 6
Defining for ourselves the parental role
Guiding out of the center or centering in the midst of chaos
Structuring our environments: Using time, space and equipment
Deciding/planning

Planning for other situations

Reflections and evaluations of the discussion series
A Family Weekend
A time of family fun, a chance for Quaker children to play and learn together, and an opportunity of parents to share their concerns with other Quaker parents. The weekend is tailored to meet the needs of the group.
A Family Weekend Outline
Friday evening
(approximately from 6:00 to 8:00 depending on age of children)
Activities as people gather – child focused
Dinner—potluck
Evening family time

Share pictures of family time over vacation
Games
Story telling
Singing
Saturday morning
(Day starts at 9:00 or 9:30 and ends by 4:30. An evening program can
be planned but families tend to feel they want the evening at home together.)
Worship
Quaker Beliefs —
Integrating our beliefs into family life

Looking at our situations
Brainstorming solutions
Choosing solutions based on our beliefs

Lunch break—(pizza (?) with children and time for a good family
break)
Saturday Afternoon
Integrating the testimonies into family life

Define some of the testimonies

Consider children's characteristics and setting realistic expectations
for our children's behavior
Planning with consideration of the testimonies
Other relevant issues to consider—

Building and maintaining the relationship

Reflection on day
Sunday Morning
(usually an hour during adult religious education)
Issues parents raise or
Raising Quaker children in a non Quaker world
Join in meeting for worship
Grandparenting Creatively in a Quaker Manner
Grandparents may live near their grandchildren or far away. They may have frequent contact or no contact at all. They may want to renew, re-spark or think how to keep the relationship as children move into another stage of development.
This workshop offers the opportunity to:
Contemplate the relationship that you have with your children and grandchildren.
Envision the kind of relationship you want to have with each of them.
Explore how your Quaker faith can support and guide you in these meaningful  relationships.
We hope you will explore the resources on this site and call to discuss your interests. We will work with you to design a program that specifically supports your goals.
Objectives
An opportunity to:
Reflect on their grandparenting role
Envision how they would like to grandparent
Problem solve what is possible given the circumstances
First Session
Queries to guide session
What role do I have in the lives of my grandchildren?
What role do I wish I had?
How can my Quaker Faith guide me as I walk this Grandparenting path?
Circle introductions
Introduce our extended families using pictures
Something we have done together that was fun or
Something we would have liked to have done together that would have been fun.
List our issues (They might include)
Children live far away
Members not speaking to each other
Grandchildren not doing well
Children being dumped on you
Not seeing grandchildren
Take one issue—
Brainstorm ideas for solving
Building our picture of the ideal family —
What would our ideal extended family look like?
(Work in small groups)
Who include?
Activities
Pool our dreams
Holding a member of our extended family in the Light
Second Session
This session will grow out of the material presented during the first session
Possible topics
Issue:Grandparent listed geographical distance from grandchildren
Workshop: Brainstorming schemes for keeping in touch.
Issue: Parents will not let grandparents see grandchild. There is no communication with family
Workshop: Draw on Quaker practices for help in understanding. Draw on Quaker testimonies for guidance
Issue:Grandchild has serious problems
Workshop:
Identifying problems
Brainstorming possible ways of dealing with problems
Turning to our Quaker faith to guide us in how to support the child
Integrating Quaker Values into Family Life
During a single session participants take a typical parenting situation and experience how Quaker values can guide parents as parents discern how to deal with that situation.
Workshop Outline
Objectives
Opportunity to:
Identify and define the testimonies and ones values
Explore ways of using the testimonies and values as guides
Share specific ways of integrating them into family life
Content
Describe situations about which parents are concerned
Brainstorm ways of dealing with one specific situation
Identify testimonies and values that could serve as guides for planning
for the situation
Define the testimonies and values
Use the testimonies and values to plan for the situation under discussion
Reflection
The Quaker Parenting Initiative: Its Purposes and Goals
Meetings blessed with families often look for ways to support those families. Participants of this workshop learn about the different programs offered by the Quaker Parenting Initiative and how those programs can be adapted to meet the needs of the parents of a meeting. Our programs provide opportunities for parents to relate their Quaker faith to their family life. At the same time, parents may form bonds with other Quaker parents for support and to share the joys and tribulations of nurturing children. Meeting members will learn more from this workshop about how the Quaker Parenting Initiative can support the life of their meeting.
Workshop Outline
Objectives
Introduce participants to:
The history of the Initiative
The make-up of the participants
The goals of the organization and its activities
Plan
Circle introductions
Briefly tell the history of the organization

How QPI started
Who was involved
Make-up of the writing group

Our common understandings

What we found that we shared:

Beliefs on which we base our parenting
Testimonies that guide us
Practices that keep us focused including

Queries that remind us of the pertinent issues

Describe workshops QPI offers

Discussion series
Single sessions
Weekend family retreat

Leadership Development
Reflection on workshop
BLOG: Conversations in Parenting
Conversations in Parenting is a place to ask questions and learn from the experiences of other parents.
A friend told me the following story twenty years after it had occurred. She found him, she told me, her thirteen year old son, in his room sobbing. Here he was just back from his two month summer visit with his Dad. He'd seemed happy to be back and had had little to...
read more
How do you want your children be able to use screens twenty or thirty years from now? Before we turn over to our children the keys to our car, a powerful piece of equipment, we give them guides as to how they are to use it. Should we not give our children similar...
read more